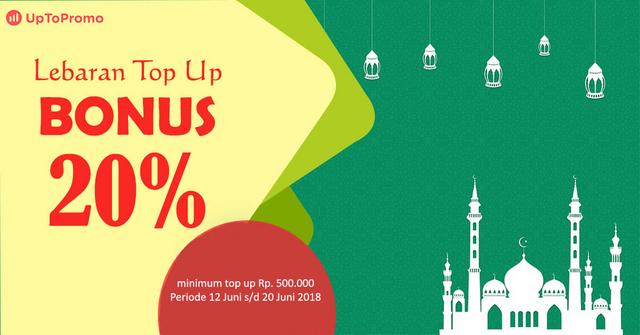 Dear Valued Clients,


Please be informed that UpToPromo will be closed on June 13th, 2018 - June 20th, 2018 due to Idul Fitri 1439 H Holiday and business will resume on June 21th, 2018.


Because of the holiday We informed some changes that occurred:
1. For Publisher UpTopromo, withdrawals will be processing on June 12, 2018
2. And the next Withdrawals will be processing on June 21, 2018.


And now we have a 20% LEBARAN TOP UP BONUS promotion for the optimizer.


Top Up your balance minimum Rp. 500.000, -

get top up bonus of 20%


Account information for top up:
PT.Uptopromo Solusi Indonesia
Bank : Mandiri KCP Jakarta Plaza Dua Mutiara 10222
Rk. No. : 1020057758887


Doing claims bonus with top up your balance to our bank account and send your payment confirmation to finance@uptopromo.com or just simply inform is through Ticket Support with subject: "Bonus Lebaran"


For top up process Optimizer we will process maximum of 1 x 24 hours during the holidays.


This promo only applicable until June 20th, 2018


What are you waiting for???
Top up now and make sure your project optimization still active during eid holidays!